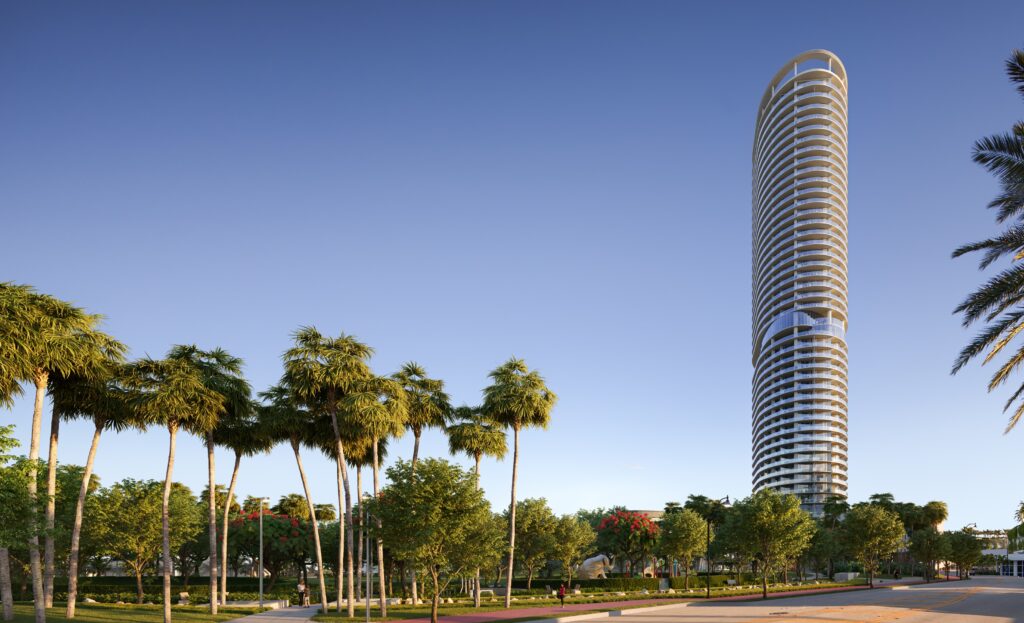 Unique, modern and luxurious residences in Five Park Miami Beach.
Five Park is the epicenter of transformation, ushering in a new era and opening doors to the most visionary. An unprecedented opportunity for change to experience and enjoy all that Miami Beach has to offer. In addition to its coastal surroundings and a carefully selected ecological park, Five Park offers a wide variety of amenities, workplaces, pools with panoramic views and spaces for family or business events.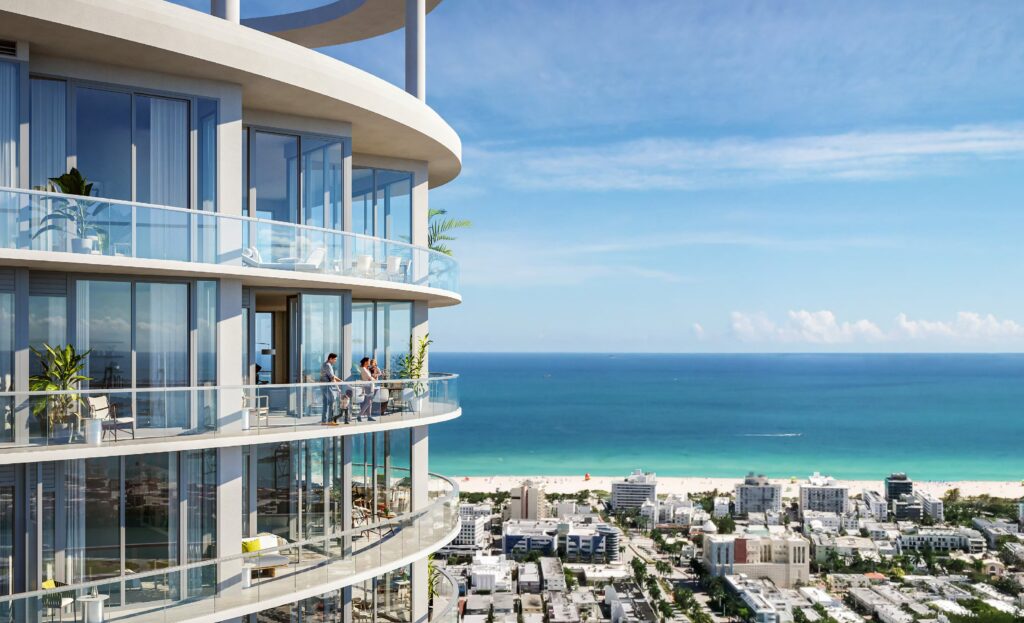 Floors located on the elliptical floors of the building allow Five Park residents to have a unique view of the city, the bay, the common areas and the beautiful terraces that are illuminated with abundant natural light.
Lead by the renowned planning and architecture studio, Arquitectónica, Five Park represents the intersection of sustainability, function and beauty. This cylindrical wonder draws its curvy shape from the rolling waves that reflect the ecology and culture of Miami Beach.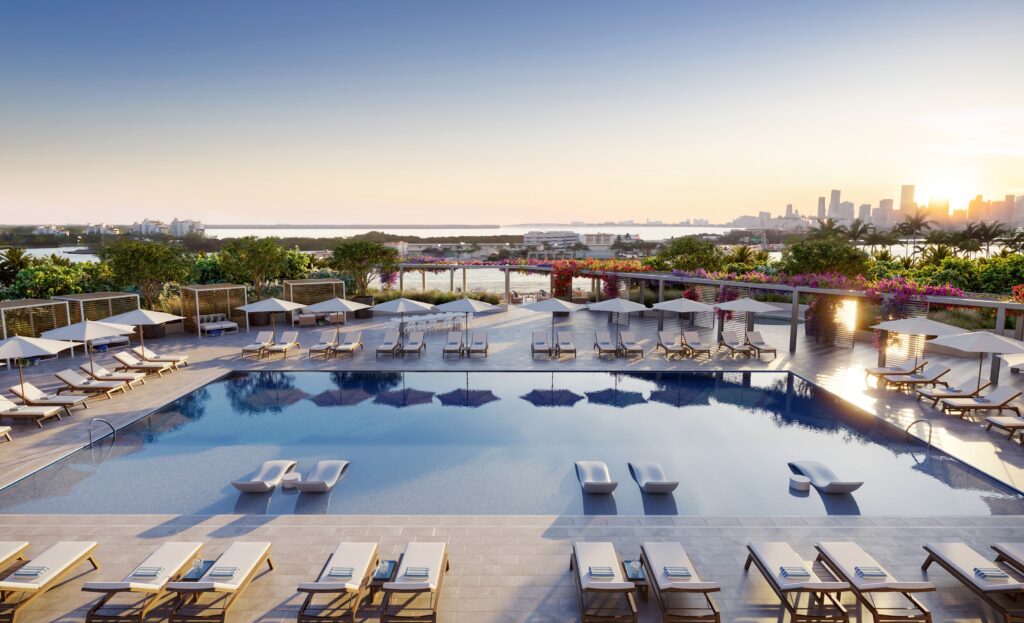 Lush green terraces bring the earth to heaven, but also help to modulate the heating and cooling of the building. Adding a layer of smart technology to this ecosystem, improving the management and quality of the water as well as the heat load.
BUILDING SPECIFICATIONS AND SERVICES
Building characteristics
98 fully finished residential units, comprised of 2 to 5 bedrooms, with an area ranging from 1,434 to 6,000 square feet.
Exceptional panoramic views of the ocean, bay, and Miami skyline.
Private parking for residents and reception.
Accessible to South Pointe Park, the Baywalk, the Miami Beach Marina and the beach via the Daniel Buren-designed Miami Beach Canopy pedestrian bridge.
Charging station parking available for electric vehicles.
Exterior space
The Canopy Park features a MONSTRUM playground, an outdoor gym, picnic areas, a dog park, shady gardens, and art installations.
The green areas have an impressive view of the sunset and the Miami Bay, which can also be seen from the pool for both adults and family use. Spacious spaces that offer unparalleled relaxation with shaded trellises, a terrace that faces the sunset, numerous cabins, lounges, and a meditation area.
Residents also have a private Beach Club located in South of Fifth, with lounge chairs, umbrellas, and towel service.
Building amenities and services
Business center with private offices and meeting rooms.
Learning lab for kids and club for teens.
Video conference rooms.
Luxury suites for short-term guests, ideal for friends, colleagues and family.
Bar and cafeteria in the pool exclusively for residents only.
24-hour butler and concierge service.
Cleaning services available.
Transportation to the Beach Club through the electric Moke.
Fully equipped gym.
Spa rooms and treatments.
State-of-the-art fiber optics, which provides high quality internet and WiFi service, reaching all corners of Five Park such as residences, common spaces and even the parking lot and elevators.
An incomparable beach life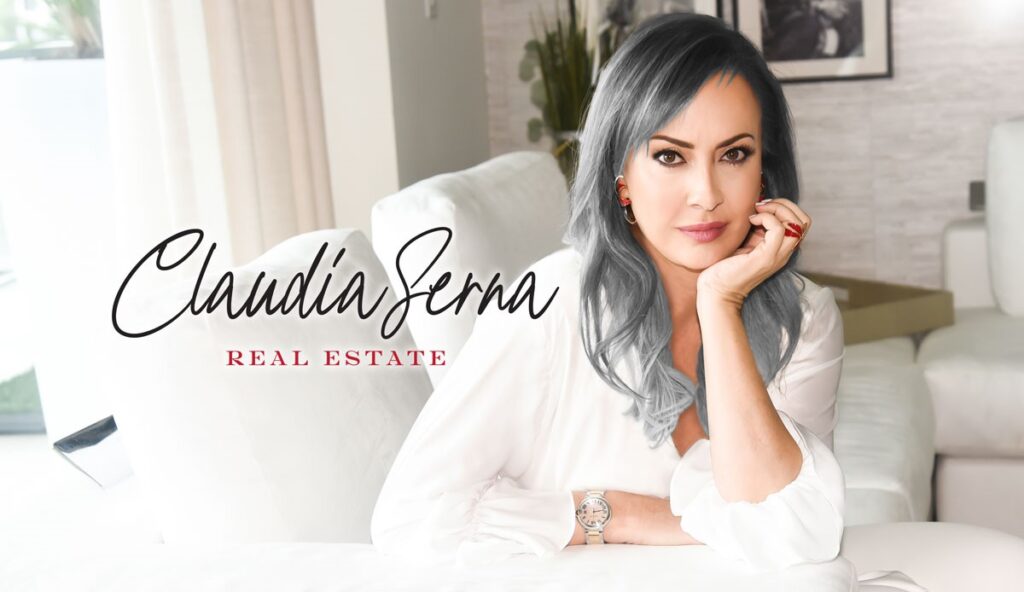 Phone Number: +1 305.850.0990
WhatsApp: +1 954.993.1616
Email: info@claudiaserna.com
Instagram: @ClaudiaSernaCH
Facebook: /ClaudiaSernaCH